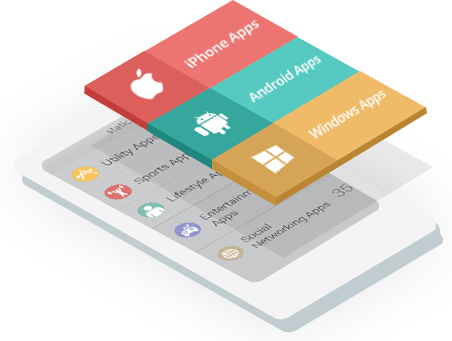 Mobile Application Development
Mobile Application Development Can Come in Small Packages
In the modern world, everything comes in a handheld by the mobile. Through mobile, you can access everything in the world. To make it easier we develop Mobile Application  in the business fields to expand and flow internally. At websitica, we are professional in the development of  enterprise, educational and utility mobile apps. Our Mobile Application Development can solve business problems opens up new opportunities and makes you feel good.
Mobile application is a preferred for foremost business houses because of the availability of low-priced devices and the easy way to drive applications into devices. Many restaurants, retail outlets, factories, warehouses, hospitals etc, have started using mobile apps for their interior applications. We develop apps for mobile phones that are either pre-installed on phones during manufacture, or downloaded by customers from app stores and other mobile software distribution platforms.
At Websitica, we have developed software for the mobile application and web for mobile devices. This technology is helpful when integrating with existing web applications and when handling with huge data. Any web application can be integrated into mobile apps using web service.At Websitica ,we make mobile application for Android,windows and IOS and release it into the market .
EVERYTHING YOU NEED
Amazing design and experiences can only be achieved by talented people. Luckily for us, we are surrounded by amazing talent and that talent transcends their expertise into fantastic experiences. Let us be part of your team and let us create amazing results for you.
16/148, 2nd Floor, V.V. Koil Street,
Thiruvalleswarar Nagar, Thirumangalam,
Chennai – 600 040
+91 9940357378
+91 9789768008