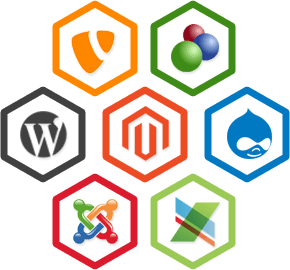 Open Source Development
OPen Source Development Ingenious in Every Platform
                                                   Open source software development has become a large part of the creation of the World Wide Web. These Open Source Development makes easier for us to search, study and improve with the open source license. Today, at the trending world Open Source Development is highly recommended for less consumption of time for the development of website.Websitica has vast experience in software development and open source web development for our global clients. Our team members at websitica can provide a well established various open source applications. We have skilled and experienced developers in altering the open source according to the client's preference.
We are expert at dispatching solutions ranging from simple to complex web application developments and are assured of supplying you with the solution that fits your business requirements. Our open web development source includes customization, integration, installation and well maintenance.
Our team of highly trained and professional open source developers has enormous experience in creating customized and user-friendly web applications and solutions. We establish as an entire web solution company for your organization's diverse network based necessities. We are dedicated to make high quality business solutions.Our professionals work hard to regulate the completing and execution of Open Source software to give the most well-organized and consistent web solutions.
Benefits of Open Source Development
No initiation or maintenance cost.
Stay connected with your Developers all the time.
Provides higher performance and allows extensive customization
Designed to inner work – published interfaces and no hidden code
Provides wide repository of plug-ins & modules
Easy to use interface for webmaster
Provides greater flexibility
Ensures backward compatibility
World-wide community back-up
Cost-effective and requires less development time
Our Open Source Development includes the following,
Net Development
PHP Development
Word press Development
Responsive & HTML 5 Development
Java Development
AJAX Web Development
open social development
open cart development
EVERYTHING YOU NEED
Amazing design and experiences can only be achieved by talented people. Luckily for us, we are surrounded by amazing talent and that talent transcends their expertise into fantastic experiences. Let us be part of your team and let us create amazing results for you.
16/148, 2nd Floor, V.V. Koil Street,
Thiruvalleswarar Nagar, Anna Nagar West,
Thirumangalam,
Chennai - 600 040
+91 7601976099 - Sriram [Founder & COO]
+91 9789768008 - Vishnu [CEO]
+91 7010914345 - Office