In today's growing digital world there are enormousness digital marketing strategies such as SEO, email marketing, PPC, native advertising, podcasts, and social media marketing.
But, do they all worth doing for a good Return on investment?
Working on all the channels is not a good idea for getting high ROI
If you want your website to bring back the money you had invested, concentrate on implementing the digital marketing channels that will yield you the high return on Investment.
To do so, Check-out the ranking of the top five digital marketing channels that yields High ROI.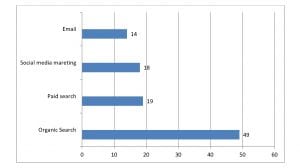 But the ranking of these digital channels is always not the same. It keeps on changing over time. For Example, a few years before during the development stage of this trend, Email was one was the best ROI (Return on Investment) channel on the internet.
Now, let's take a deeper look at how these digital marketing channels hold its place today.
Organic search:
Organic search tops the ROI List because with very little investment it gives higher ROI. This is seen as a Legal way of digital marketing. People do Google search for almost all the things. So if we appear on the SERP (Search Engine Result page) then the ROI is not so far.
Make your website or blog or anything you want and put on Google. If it is built properly following Google's attributes. Thus it is a smart way for less investment for High ROI.
Paid Search:
I will say a Paid search is for Quick ROI. It is also that you can get back at least what you have invested in a paid search. It also works well.
But if the amount quoted is over or you stop paying it immediately vanishes.
Social media marketing:
Social media Marketing is also a good channel for ROI but it has a lot of parameters such as
Time – our work will appear on the time of demand.
Reach – people on Social media are huge. Thus it is of importance to post online.
Email:
Email Marketing was once ruling the list. But as time changed people started preferring other channels.
It was helpful for reaching multiple clients around the world.
But even now if it is used effectively it can get a better reach.
I would like to conclude by saying for each business a different type of digital marketing channel will apply. So based on the market need choosing wisely will give high ROI. Though there are a lot of channels to choose from Organic Search will always stand by because once it on SERP it is there forever and by proper application Google Attributes it can always yield a good return on Investment.
Powered by Web Design company – Websitica Technologies.